The Everscale price jumped sharply even as other cryptocurrencies like Bitcoin and Ethereum recoiled. The EVER price rose to a year-to-date high of 0.3837, which was about 130% above the lowest level in March. It has a market cap of over $ 452 million, making it the 170th biggest coin globally.
What is Everscale and why is it rising?
Everscale is a relatively small Ethereum rival that seeks to become the best place for developers to build their decentralized applications (dApps). It describes itself as a green blockchain network because it uses a proof-of-stake technology and the fact that it processes more transactions per second.
Also, the network's community has an active policy of offsetting environmental damages. For example, they bought an 8 hectare piece of land in 2021 and planted about 600 seedlings.
Everscale price is rising as the platform's ecosystem keeps rising. Some of the platforms that are using the nework to build are Ever Surf, FlatQube, Octus Bridge, and Ever Pools among others. According to DeFi Llama, it has a total value locked of $ 75 million, which is a small sum considering that the total DeFi industry has a TVL of over $ 210 billion.
Everscale's TVL is primarily from FlatQube, a decentralized platform whose TVL has surged from $ 25 million in December to the current $ 75 million.
Everscale price is also rising after the cryptocurrency was launched in CoinOne, a leading South Korean exchange.
Still, like all Ethereum-killers, Everscale faces numerous challenges ahead. For example, the Ethereum merge is set to happen in the third quarter. After that, Ethereum developers will adopt sharding technology that will make it significantly faster and environmentally friendly than other networks. Therefore, there is a likelihood that more developers will stick with Ethereum.
Everscale price prediction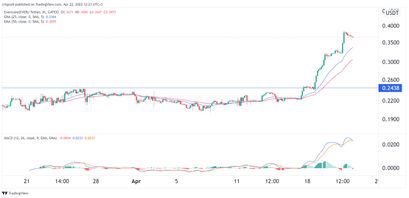 The three-hour chart shows that the EVER price has been in a strong bullish trend in the past few weeks. The coin has moved above all moving averages while the MACD has made a bearish crossover. A closer look shows that Everscale has also formed what looks like a bullish flag pattern.
Therefore, the coin will likely keep rising in the coming days as the fear of missing out (FOMO) sets in. If this happens, the next key resistance level to watch will be at 0.40 USDT.