The ThorChain price has bounced back in the past few days after the developers launched a series of new features. RUNE, its native token, is trading at $ 7, which is about 126% above the lowest level this year. As a result, its total market cap has risen to over $ 2.11 billion, making it the 55th biggest coin in the world.
Why is RUNE rising?
There are several reasons why the ThorChain price has jumped in the past few days. First, recently, the developers announced the launch of Thorfi, which is a feature that allows the launch of synthetic assets within its network.
Synthetic assets are tools in the blockchain industry that allow people to create derivatives based on real assets. For example, it is possible to create a synthetic derivative based on the US dollar, Bitcoin Netflix, or any other asset. Synthetic is one of the leading providers of these synthetic assets.
The synthetic assets built in Thorchain are backed using liquidity pools offered by the network. They are minted by 50% of RUNE and 50% of the target asset. This differs from wrapped assets that are backed 1: 1 to the asset. This is notable since these assets will lead to more demand for RUNE within the network.
Therefore, the ThorChain price is rising as investors believe that these assets will propel it higher. At the same time, we cannot rule out the fear of missing out (FOMO) as being key drivers of the RUNE price. Historically, when an asset price jumps, it tends to attract the attention of retail traders who believe that it will keep rising.
Still, there is a reason to be cautious about these assets. For example, in the past few months, the Synthetix price has dropped by over 70% and its ranking dropped below 100 despite being the biggest platform in the industry.
ThorChain price prediction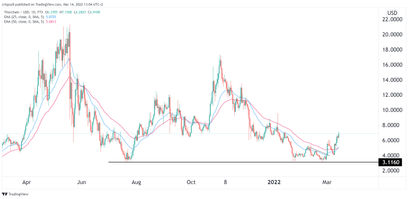 The daily chart shows that the RUNE price crashed to a low of $ 3.11 in March. This was a notable price since it was the lowest level since August last year. A closer look at the chart shows that it has formed a head and shoulders pattern.
In price action analysis, this pattern is usually a bearish sign. Therefore, despite the current jump, there is a likelihood that the coin will resume the bearish trend in the coming days. This view will be confirmed if the coin falls below $ 3.